We carry three sizes of book matches with an almost endless combination of colors, board and match tips.  Choose from 16 custom tip colors and 2 premium colors.
Just give us a call and and let our experienced staff help you create the perfect design for your custom box or book matches.  All we need is your logo and company information and we can help you get started right away.
Check the US Production Price List and the Overseas Production Price List for the Book Match prices and Rush Order prices.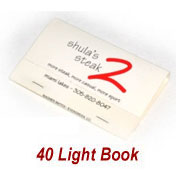 40 Light Book
3 x 1-7/8 inches
40 matches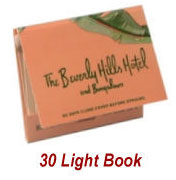 30 Light Book
2-1/16 x 1-7/8 inches
30 matches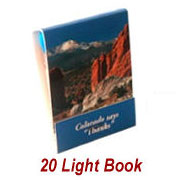 20 Light Book
2-1/2 – 1/78 inches
20 matches
Choose from 16 custom tip colors plus 2 premium colors. All color tips are available on both white and black stems
Color Tips only available via Overseas Production


Click here for more information on match tip colors.
Click here for information on ordering and submitting your artwork
Custom Matchbooks And Accessories For Your Business
Wagner Match has been providing businesses with custom made marketing products for over 20 years. At Wagner Match, we create and customize book matches, drink coasters, scratchpads, and other fun accessories with your business information and logo so that your customers have something to walk away with. We offer a wide range of products for you to choose from so that you can easily promote your business in an exciting and cost-effective way.
Promotional Products That Really Work
Wagner Match customized book matches and products provide a refreshing experience for your customers. With so much advertising taking place on the internet today, it can be fun for your customers to have something tangible to hold on too. Our services allow you to promote your company or service in different unique ways that will help people remember your business.
Customized Services For Book Matches And More
At Wagner Match, we can customize all types of products with your company logo, slogan, or image to really make an impact. Choose our large selection of products like toothpick packs, sugar packs, dinner mint packs, scratchpads, and book matches that you can give to your customers. At Wagner Match, we have the products and services to help you promote your business in a fun and affordable way.
Customized Book Matches From Industry Professionals
With Wagner Match, getting custom products made is easy. Just send in your logo or artwork and our professionals will help you create something special. By giving your customers fun promotional items to take home, you can market your business while giving them something they might actually use. Customized book matches, or dinner mint packs can be the best way to have customers talking about your business.