RECENT BLOG POSTS

Here's How to Wow Potential Customers With Custom Matchbooks
by
Wagner Match
September 26, 2018

Get Inspired for Your Next Promotion From These Unique Matchbook ...
by
Wagner Match
August 15, 2018
Accepted Payments

We accept VISA, MasterCard, and PayPal.
Wagner Match toothpicks, like our book and box matches, may be custom printed in a wide variety of colors and styles to help you promote your company's image. These are high-quality, tooled toothpicks in sealed booklets of 7 or 10 picks.
If you're looking for something different, toothpick booklets are a great new way to promote your business in addition to custom printed match books. Your customers will keep these in their pocket or purse, in the car, or around the home.
Booklet size 1-9/16 x 2-1/2 inches
7 or 10-picks per booklet
Tooled Handles
Each booklet is sealed in sanitary polywrap
Base prices include 1 color on glossy white kromekote cover. Gold or silver count as two colors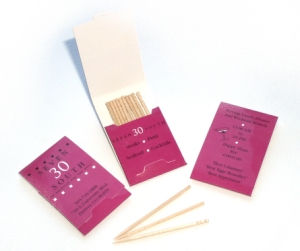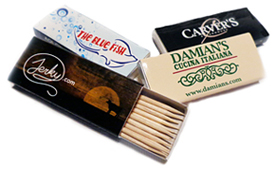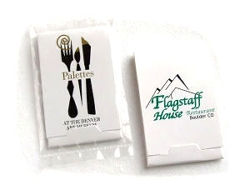 Current Prices listed below and in this pdf for convenient download and reference: