We carry six standard styles of box matches. We offer an almost endless combination of custom sizes with extras like Foil Board, Laid Paper, or Black Sticks. You can even select from 16 custom tip colors plus plus 2 premium colors.
Just give us a call and and let our experienced staff help you create the perfect design for your custom box or book matches. All we need is your logo and company information and we can help you get started right away.
Japanese Box Matches Call 800-678-7626 for Pricing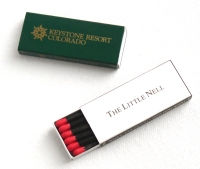 Box 1
2-1/4 x 7/8 x 1/4 inches
11 sticks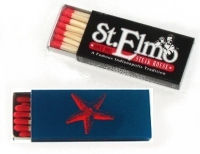 Box 2
2-1/4 x 1-1/8 x 3/8 inches
18 sticks

Box 3
2-1/4 x 1-3/8 x 3/8 inches
24 sticks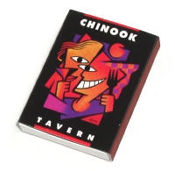 Box 4
2-1/4 x 1-5/8 x 3/8 inches
28 sticks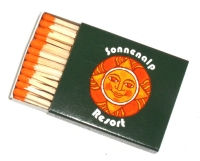 Box 5
2-1/4 x 1-13/16 x 3/8 inches
33 sticks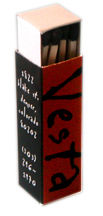 Box 6
2-1/4 x 11/16 x 11/16
22 sticks
Box Match base prices include 2 colors on standard board.
Options include:
Extra colors
Foil Board
Laid Paper
Black Sticks
Choose from 16 custom tip colors plus Gold and Silver premium colors.
Color Tips only available via Overseas Production

Click here for more information on match tip colors, premium colors and match stick colors.
Click here for information on ordering and submitting your artwork
Current prices listed below and in these pdfs for convenient download and reference:
Japanese Box Matches Call 800-678-7626 for Pricing