Many different kinds of high-quality board available, with so many options,
please Contact Us for current prices of custom drink coasters.
Wagner Match drink coasters are made of high-quality pulp board you won't find at any other company. This snow white board with debossed printing really makes your colors stand out. Choose among three different shapes: round, square and square with rounded corners.
3-1/2 inch round or square
both round and square corners are available
Base prices include 1 color. Gold or silver count as two colors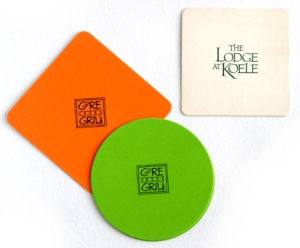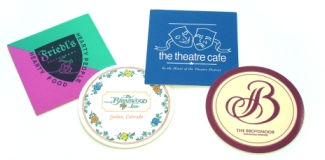 Drink Coaster With Custom Printing
Since 1981 Wagner Match has been providing customers in the hospitality, entertainment, and service industries with impeccable work and service for custom printed drink coaster products. With Wagner Match, you can choose from a wide range of high-quality pulp board coasters that you won't find at any other company. In different shapes, colors, and sizes, you can have something created truly unique.
Custom Drink Coasters When You Need Them
Wagner Match offers the quickest turnaround in the industry. This means if you need your custom drink coasters created in a hurry, you can get them without any worries. For an additional $150.00 rush fee, you can get your artwork approved and your coasters created in just 7 business days. Wagner Match offers incomparable work, fast, when you really need it.
Custom Artwork Services For All Coasters
With Wagner Match, you get efficient, cost-effective production on everything you order. Send Wagner Match your artwork by email or CD, and professionals will take your logos and prepare them for printing. Get PMS color matching or 4-color processing on any standard coasters you choose. Wagner Match will ensure your coasters turn out professional and creative.
Drink Coasters – Size, Color And Stock
High quality pulp board coasters come in different sizes and colors. Choose from shapes in round, square, and square with rounded corners. You can select from heavy or standard stock materials as well as PMS colors, 4- color processing or stock ink colors in black, red, green or blue. With Wagner Match, you can find the perfect coaster to brand your business, and market to your customers in a fun and exciting way.